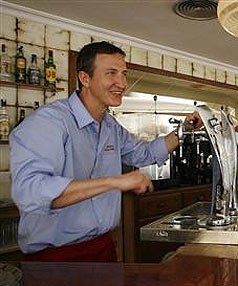 A Spanish bar is encouraging clients to insult its staff – and offering free drinks for original or hilarious abuse.
"When you come in after work, you can swear at them and call them bastard or imbecile," said client Antonio Ossa.
He told state news agency EFE the promotion by the Casa Pocho bar, in the southern town of Cullera near Valencia, seemed like a good idea to him.
Polish-born bar owner Bernard Mariusz said he thought people needed somewhere to release their frustrations at a time of economic crisis, employing the Spanish language's rich store of earthy obscenities.
"That way they won't let it out on their family," he said.

-Reuters
Refreshing, no? I enjoy the idea of receiving complimentary beverages for, "hilarious abuse". I also like that there is a place where abuse can be what it truly is, and was meant to be; hilarious. I think they could take it further though. Create an abuse-o-meter maybe to stimulate creativity. Something classic like,  'fuckhead'  or in poor taste like 'cum-guzzling-faggot' could warrant a well drink, accusing the bartender of being the milkman's bastard child could be rewarded with a specialty cocktail of sorts and if you get them to attack you, and/or quit, I'm thinking top shelf allllllllllllll night. Especially if the attack is physical.

I suppose all of this could prevent the working individual from taking their frustrations out on their loved ones (as the owner speculates it will).
Just might work!
Well,  if your home life can be summed up in the below image, it may be successful.
These drawings sure are great, no?

Popularity: 1%