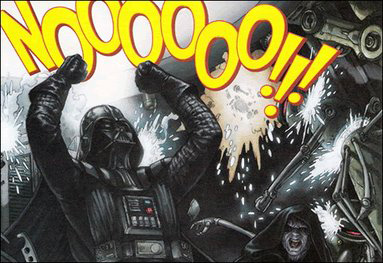 Note, I didn't say joy-ous sounds, in fact, these sites are pretty much not joyous at all.  But you will enjoy them.
First up is Vader's blue button, only press it in dire situations (I recommend turning the volume up and pressing it at work, then quickly closing the web browser and muting your computer – and pretending like nothing happened).  There's also another take on this one – Vader Loves Christmas.
If you're not a Star Wars fan, but rather a fan of Star Trek, there's the famous Khaaan! sound.
Umm, lets see.. if you frequently experience high levels of drama in your life, there's the Drama Button.
And to finish up this auditory twilight zone experience, we've got two versions of a nice Sad Trombone which is also known as the sound of failure.
EnJOY!
Popularity: 1%