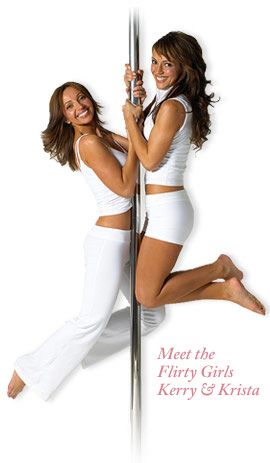 Yes, indeed, meet "The Flirty Girls" – Kerry and Krista.  Apparently they're the marketing faces (ASSets?) of Flirty Girl Fitness.  I really wish I just came across their site either by accident or because I was looking to install one of these in my apartment.  Unfortunately, I found them by clicking through an ad on sinkpock's excellent Weight Loss Program post.
I kid you not, these girls are selling stripper poles to housewives (and I'm not talking about strip club house moms) to help them lose weight.
A slightly different marketing wrapper on the same store at Flirty Stripper Pole has the following quote:
Because we have hundreds of women pole dancing in our clubs every day, we know what it takes to make a quality stripper pole!
Umm.. so these are "Strippers Entrepreneur" as far as I can tell.  Don't get me wrong, I have quite a bit of strip club experience under my belt.. err.. on my lap? I'm just not one hundred percent confident that dancing on stripper poles is the safest and best way for women to lose weight.  I mean, what happened to a healthy diet, self-control, regular exercise regimen, etc, etc.  I'd hate to be the Flirty Girl Fitness lawyer when the summons for the first lawsuit about somebody breaking their neck comes tappin' on the door.
Popularity: 27%