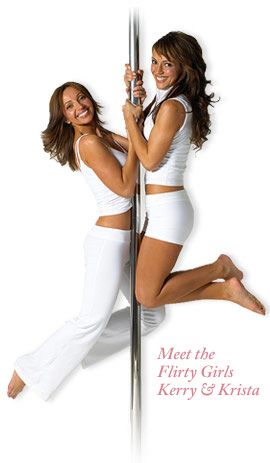 Yes, indeed, meet "The Flirty Girls" – Kerry and Krista.  Apparently they're the marketing faces (ASSets?) of Flirty Girl Fitness.  I really wish I just came across their site either by accident or because I was looking to install one of these in my apartment.  Unfortunately, I found them by clicking through an ad on sinkpock's excellent Weight Loss Program post.
I kid you not, these girls are selling stripper poles to housewives (and I'm not talking about strip club house moms) to help them lose weight.
A slightly different marketing wrapper on the same store at Flirty Stripper Pole has the following quote:
Because we have hundreds of women pole dancing in our clubs every day, we know what it takes to make a quality stripper pole!
Umm.. so these are "Strippers Entrepreneur" as far as I can tell.  Don't get me wrong, I have quite a bit of strip club experience under my belt.. err.. on my lap? I'm just not one hundred percent confident that dancing on stripper poles is the safest and best way for women to lose weight.  I mean, what happened to a healthy diet, self-control, regular exercise regimen, etc, etc.  I'd hate to be the Flirty Girl Fitness lawyer when the summons for the first lawsuit about somebody breaking their neck comes tappin' on the door.
But, on a lighter note, after several rigorous hours of research into the "stripper poles for sale" industry, I've composed a thorough competitive analysis for you, the inquisitive reader.  Ahahaha.. who am I kidding… here are some juicy tidbits I pulled from a bunch of sites selling this kinda stuff.  Enjoy!
IWantOneOfThose.com sells stripper poles.  Here's a quote from their site:
Stretch, shake and slide your way to a great new body with the fun new way to keep fit (and raise eyebrows). Pole dancing is fast becoming the must-do activity to get you fit and wow your friends (never mind your other half!)

Demanding and sexy, it works muscles you never knew you had. Plus, the results are simply stunning. Guided by expert and professional dancers you get to be daring, have fun and get fit – all at once! And just imagine the chat-up lines you'll have next time you happen upon a fireman…
Huh? They're located in the UK from what I understand.  I guess in order to chat-up firemen over yonder, you have to know how to work a pole?  Oh, right, right.. because firemen slide down stripper poles like they do in the movies, eh?  Actually, that's a good question, do firehouses still install poles for firemen to slide down? I certainly hope not, at least in New York, traffic is much more detrimental to arriving at the scene of a fire – having to run down a set of stairs is only a minimal delay.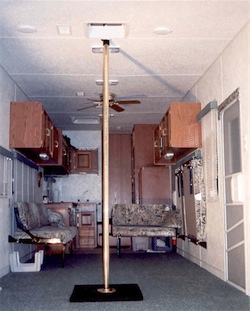 PoleDanzer.com – this store is so advanced that they have developed "portable poles", including models that can be installed inside trailers.  And I don't mean tractor-trailers or creepy "follow you out of the strip club after it closes" trailers.  I mean the kind of trailers that you find in a trailer park.  I say that's a win for all of humanity!  You'll find a picture of one such trailer-stripper-pole installation on the left.  I can see this being a way for strippers to break
A website called "Got Pole?" sells what they call "The Original Lil' Mynx Dance Pole Polished Stainless Steel Pole".  Additionally, one of the recommended products to buy along with your stripper pole is a "Zircon StudSensor". Umm.. this is so you can .. sense studs? Huh?
We tried to get in touch with the World Pole Dance Federation for comment, but alas their web site has been "down for maintenance" for a while now.  Does that mean they found handsome Italian plumbers to go "down for mainenance" on? "It-sa-me-Mario!".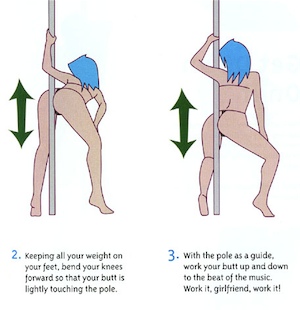 Fortunately the US Pole dance Federation website is "up".  Apparently they hold stripper pole dance competitions, with regional competitions taking place in North Hollywood, CA (October 24th, 2009) and Charlottesville, VA (October 4th, 2009).  So for all those interested, now may be the time to buy your stripper poles and start practicing!
On the right you'll see an excerpt from a stripper pole dance training diagram/manual/whatever.  Note the complexity of technique and the strict repetative instructions to move up and down indicated by the arrows.  "Work it, girlfriend, work it!".  I hope that helps anybody aspiring to place highly in the stripper pole dancing championships to improve and develop their technique.

Popularity: 27%