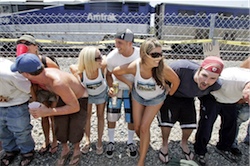 You know its gonna be a great day when the Wall Street Journal covers a Mooning Festival in Laguna Niguel, Orange county, CA – on the front page of the paper.  Sarah McBride (the author of the article) – you're my hero.  Let me just quote some of the colorful puns she's managed to sneak onto the front page:
A Mooning Festival Is Something The Mayor Just Can't Get Behind
As Town Turns Its Back on 30-Year-Old Event, Will Train Flashing Go Into Eclipse?

…This year, the city, on the busy Orange County corridor between Los Angeles and San Diego, is planning a crackdown.
Superb, I have to say, that kind of writing really cheers up the front page of an otherwise stuffy (even on a Friday) paper.  For those interested in more details, check out the event's official site.  The site even has estimated schedules for when trains will pass.  The event is a yearly occurrence, and marks its 30th anniversary this year.  Get this – last year between 8 and 10 thousand people showed up.  If I lived in the area, I'd be taking Amtrak trains back and forth just to ride by that many asses.  I mean, that's gotta be a site to see!  Here are some pics for you – one "on location" and one from inside a train.

Popularity: 4%