In response to sinkpock's excellent Total Babe post I submit to you – The Wingman, because for every Total Babe, as sinkpock demonstrated, there is an incredibly ugly friend that needs to be distracted.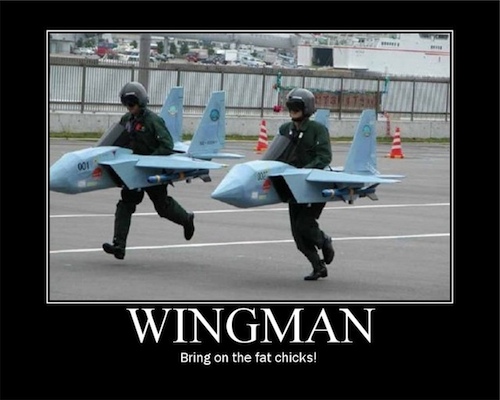 I don't know if you folks remember the Coors Light Wingman Song – probably one of my favorite advertising spots of all time.  Here's the video – enjoy the little musical interlude lol.. and if you want, check out the lyrics to Wingman.
I changed my mind, here are the lyrics, now hit play again and sing along. You better learn the song in case you're up for wingman duty.
Coors Light Wingman Song
This chick's rockin' your bro on the dance floor.
But she's towing an anchor.
A junior investment banker.
Who's talkin' about herself and not
much more.
Oh

So buy her a beer,
its the reason you're here:
Mighty Wingman

You're taking one for the team,
so your buddy can live the dream:
Wingmaaaaaaaaaaaan
Popularity: unranked
Tags: demotivation posters, lyrics, wingman